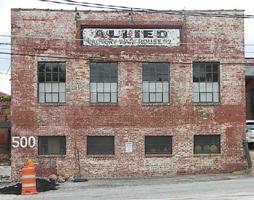 Built in the 1800s by Standard Oil of Kentucky, as a barrel making shop, Allied Factory Lofts was Converted to 12 loft spaces in 1990. Allied Factory Lofts features expansive loft spaces with exposed brick, heartpine floors, and courtyard patios.
Allied Factory Lofts exhibits fine examples of heavy timber post-and-beam construction with both granite and brick load bearing walls. The interior features 3 generations of original tongue-and-groove flooring and all of the original weighted fire doors. Exterior features include arched brick window openings, the original center-pivot window units, and star-shaped earthquake pinning. Additionally, the east side courtyard of the property contains a portion of the original cobblestone street which serviced both the building and the adjacent rail lines.
To date 10 true live/work lofts have been finished out at Allied Factory Lofts with additional work and storage units. Working in conjunction with other property owners, Bill Gould, sole proprietor of W.T.G. PROPERTIES, helped to establish the MARIETTA STREET ARTERY ASSOCIATION. This group of residents, business and property owners has been instrumental in providing a voice for this long neglected district of the city of Atlanta.