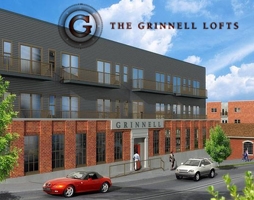 Experience Inman Park's only true boutique condominium -The Grinnell Lofts Founded in 1830, The Grinnell Lofts offers features and floorplans artfully crafted in timeless luxury. Find sophisticated urban style in the details that will stand the test of time.
Imagine stepping out into a true walking neighborhood, where Freedom Park and Downtown are easily within view, This may very well be Atlanta's most accessible address and all that dreams are made of - quaint cafes and coffee shops next to top-rated restaurants and one-of-a-kind boutiques So stop dreaming and start living.
Amenities will include covered parking, restaurants, coffee shop, boutiques and a roof deck with views of the Atlanta skyline. The interior design of the homes is intended to maximize openness in a true loft sense, while creating a contemporary urban feel using simple forms and surfaces in what promises to be Atlanta's leading edge condominium development.
The Grinnell homeowners directly benefit from The Shops at N. Highland Steel. With over 30,000 square feet of retail and restaurant space, socialize and shop at businesses such as: Inman Perk Coffee Shop and Parish - a new Bob Amick concept with New Orleans flair. Plus, The Grape restaurant and wine bar will be located next door, with Fritti and Sotto Sotto, perennial Atlanta favorites directly across the street.
The Grinnell Lofts community will quickly become an Atlanta exclusive based on its premiere location. If you enjoy an active lifestyle, The Grinnell Lofts will provide quick access to transit, park and bike path features of the proposed Beltline (www.beltline.org) and Freedom Park. Contact us today if you desire an Intown living experience with all the benefits. The opportunity of owning a home in historic Inman Park in the one of a kind Grinnell Lofts is available to only 24 savvy Atlantans.