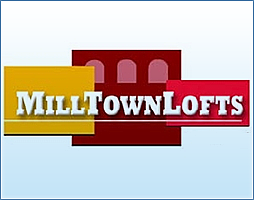 Milltown Lofts is conveniently located just miles from downtown Atlanta. Whether it be work school or play, Milltown Lofts will bring you closer to where you want to be.
Milltown Lofts features include, all brick constructions, Gated community, Spacious lofts with industrial sized windows, Ten - Eighteen foot ceilings, Exposed brick walls, Phenomenal skyline views, Private garages available, Pool, Large patios and balconies, Fitness center, and Business center.
"What makes Milltown Lofts so appealing," stated Robert Ullmann, President and CEO of Ultima, "is the fact that we're blending new construction with the charismatic array of loft floorplans in a newly emerging urban locale." MillTown offers our residents the best of all worlds," added Ullmann," not to mention the fact that we're also creating this unique lifestyle to be highly affordable."
At Milltown Lofts, Ultima is proud once again to be leading the way. By breathing residential life into yet another up-and-coming area of Atlanta, the company continues its long-standing tradition of innovation and forward-thinking excellence.
Milltown Lofts is the redevelopment of an industrial parcel of land in the Reynoldstown neighborhood of Atlanta, Georgia. The parcel has been rezoned for live/work residential units. The Milltown Lofts project consists of seventy living units, a clubhouse and pool on a fully landscaped three acre site, formerly the location of low-rise warehouses and pavement. The unit mix at Milltown Lofts includes one and two bedroom flat and mezzanine units, ranging from 700 to 1,200 sf. Large windows and rooftop decks were provided to take advantage of the spectacular city views to the west. Brick exterior and interior facades replicated the old mill town buildings in both feel and appearance, while open floor plans and modern fixtures were readily suited to contemporary lifestyles.